RePort Hope, 2017
Newspaper • Two-day Art Residency
Hosted in Port Hope in collaboration with Critical Mass and Pedagogical Impulse
Studio collaboration
Newspaper feature article
Blog reflection
In September 2017, a group of OCAD University students enrolled in the third year Publications course Pressing Issues took a weekend field trip to Port Hope, Ontario. Working under the collective name Toronto Timewarp Chronicle (TTC), we ran a pop up studio in which participants could contribute stories about Port Hope by writing on manual typewriters, talking with student facilitators, or drawing.
—Taken from Pressing Issues
I was a facilitator as part of the TTC collective for the "RePort Hope" pop-up studio in collaboration with Critical Mass Centre for Contemporary Art during their miniMEGA Steamroller event.
The resulting newspaper, RePort Hope, and the Pressing Issues blog were in collaboration with Pedagogical Impulse, both of which I was a writer and contributor for. In the newspaper, I am credited with my student name rather than my penname, Jercy Dee.
Read Immigration in Port Hope
Word Count: ~500
Themes: Canadian immigration
Major Warnings: None
Note: Minor discrepancies in format and spelling between the plain text document and the printed publication from 2017 were done to correct mistakes missed before print.
Home to roughly 16 000 people according to a 2017 statistic, Port Hope is the smallest town I've ever stayed in for an extended period of time. The immigrant and ethnic diversity within the population is low, with 10% immigrants, 3.5% a visible minority, and 1.7% indigenous according to Statistics Canada in 2011. In short, I would not have been surprised to have mostly seen white people during my visit.

I was pleasantly proven wrong.
Read Immigration in Port Hope in RePort Hope (PDF) →
Read Immigration in Port Hope in plain text (PDF) →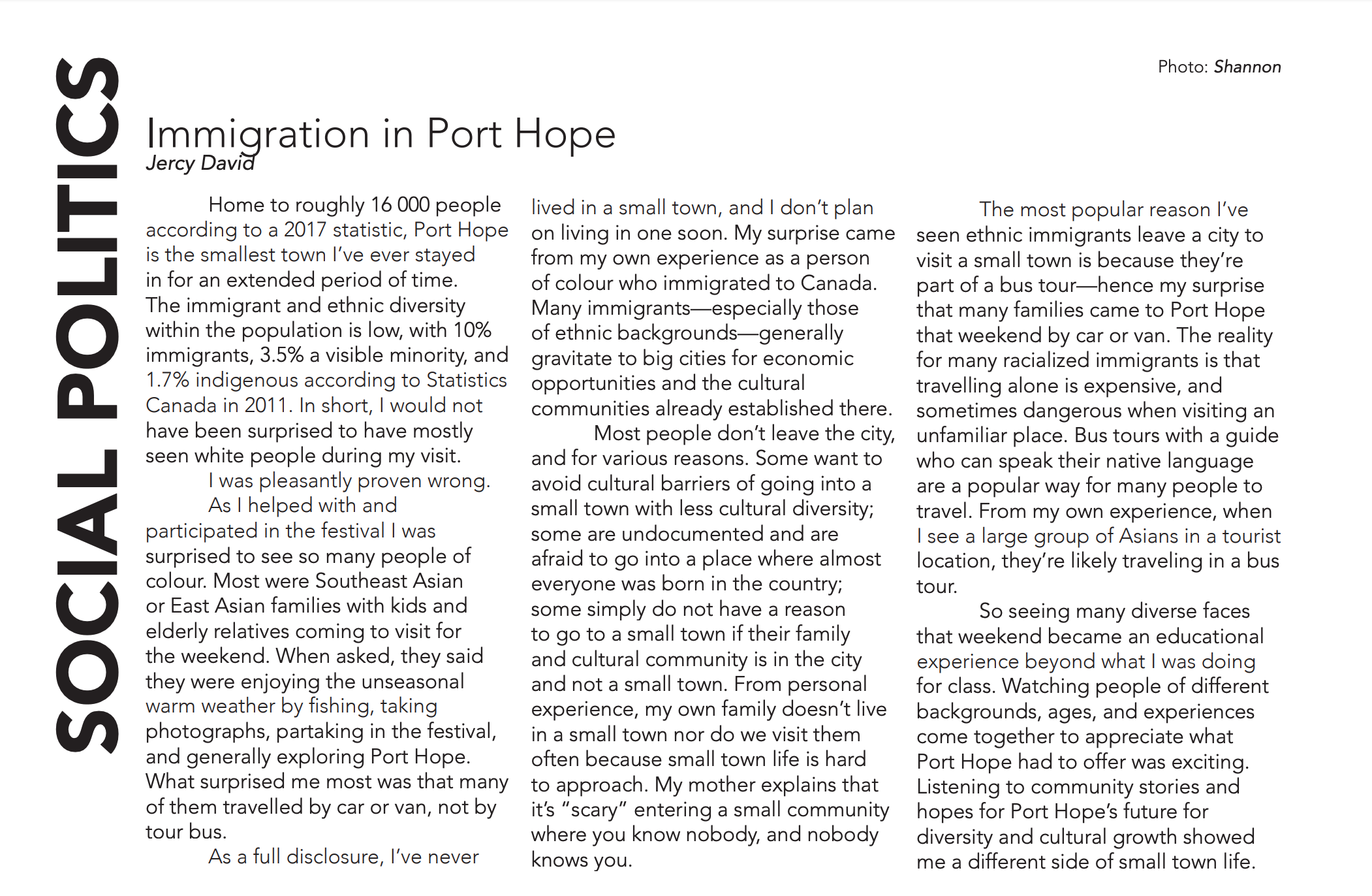 Read Unanswered Issues
Word Count: ~600
Themes: Canadian political discussion
Major Warnings: None
We came into Port Hope with nearly thirty questions to prompt submissions.

Maybe half of them were responded to.

So, why were so many of them unanswered?
Read Unanswered Issues via Pressing Issues ⇥